Preview — Teacher's Pet
— Posted 12 September 2023
Esme Linde, 23, a new teacher in a small town high school in Vermont, is accused of having an affair with one of her students, Noah Beemer, 17. The accusation ends Esme's nascent career as a teacher. Plus it could lead to her being prosecuted for statutory rape. Noah's parents have big ambitions for their talented son. Fearing that the controversy will damage his prospects, they pressure Esme to remove herself permanently from his life. But Noah has other ideas.
Latest version of the cover…
Expect to see Teacher's Pet in eBook, paperback, and hardback formats in Fall 2023.
Would you like an email alert when it comes out?
Let me know via Contact..
♦♦♦
Why Jacob Morais (in Jacob's Plan) becomes a survivalist… does this seem at all familiar?
— Posted 10 April 2020
(from Chapter One)
Time to rethink not worrying about the bad stuff…
Like the disasters that you need smarts in high places to head off because in every respect, in every possible way, the cretin in the White House is doing the absolutely wrong and stupid thing.
He rejects the science on climate change, exposing us to ever-deadlier floods, heat waves, hurricanes, fires, and droughts. He deregulates banks and provokes trade wars, setting us up for the next Great Depression. He degrades our protections against fanatics who'd detonate nukes in our cities, and against cyber-sabotage of our electric grid. He debases political debate and aligns with neo-Nazis. He undercuts nuclear non-proliferation.
He appoints bozos, lobbyists, sycophants, and grifters as his Cabinet secretaries so that when disaster strikes, their gutted agencies will have nothing to offer. Emergency response? Fuhgeddaboudit!
When nothing works and no help is on the way and food and water and shelter are in short supply, public order collapses, and chaos reigns.
Is catastrophe imminent in Cambridge?
Maybe not. Or maybe so. Given the shambolic regime in DC, who knows? Anything is possible.
In the circumstances, denial and complacency won't cut it.
I'm preparing for the worst.
I prefer not to perish from starvation, thirst, exposure, or getting shot, victimhood not being my thing.
If taking action now makes me a survivalist, so be it.
I haven't changed. I'm the same normal guy that I was before. I don't wear camo; I don't loath Government; I don't flaunt a deadly weapon; I don't belong to a militia; I'm not counting the minutes until the rapture; I don't subscribe to wacko conspiracy theories; I don't line my hats with tin foil; I'm not a tech billionaire with a walled compound in New Zealand and a private jet at the ready.
What's changed is my reality.
Make that our reality, and I, for one, am acting on it.
♦♦♦
Jacob's Plan has been released!
–Posted 17 May 2019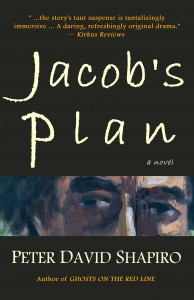 A man does what he must to survive…
Jacob's Plan received a great pre-pub review from Kirkus Reviews!  Click on Jacob's Plan to read all about it.
♦♦♦
Ripped from the pages of The Trail of Money…
–Posted 27 October 2016
A villager in China takes revenge after losing his home to corrupt developers and officials. Where have we read this before? Answer… The Trail of Money.
Chinese rally to farmer who killed official with nail gun
Fox News, AP 26 Oct 2016
SHIJIAZHUANG, China –  Two years after the leaders of his village razed his home to make way for new development, farmer Jia Jinglong took his revenge with a nail gun.
In a country that bans personal ownership of firearms, Jia modified a nail gun and used it to shoot and kill the local chief, who he believed ordered the demolition without adequately compensating him. He was tried and sentenced to death.
But days after China's highest court gave the go-ahead for his execution, Jia's case has sparked an outcry from those who say it exemplifies the stark powerlessness of ordinary Chinese when faced against government officials. Even two state-run newspapers have rallied to Jia's defense, publishing articles calling for Jia to be spared.
Jia's village on the outskirts of the northern city of Shijiazhuang is overwhelmed by a cacophony of drilling, pounding and jack-hammering coming from construction sites. More than a dozen cranes could be seen in the distance, adjacent to high-rise apartment towers still being built, as families walked on the street and vendors pushed carts bearing fruit and bottles of water.
Jia's family was offered a unit in one of these high-rises when officials wanted to take their home and demolish it, along with what Jia's sister said was a small amount of monetary compensation. The family was one of the few to refuse. They ended up losing their home and getting a small unit — but no extra money.
Sitting in a tea shop in Shijiazhuang, Jia Jingyuan said the outpouring of support for her brother showed that his plight resonated. "Because my brother is part of this society's underclass, he represents the lives of many ordinary people," Jia Jingyuan told The Associated Press.
"What he has experienced is what many are going through or will be going through," she said. "There is a lot of injustice in society and people's basic rights haven't been upheld."
To some observers, the case illustrates the growing chasm between the Communist Party's claims that it guarantees the protection of basic rights under the rule of law and the everyday reality in which land seizures are common and corruption remains endemic.
The China Daily addressed the issue in unusually frank terms this week.
"As in many similar cases, Jia used to be an ordinary citizen concerned primarily about living a normal life," the newspaper said. "Like others who ended up desperate, vengeful and hurting themselves and others to have their injustices noticed, Jia would probably not have acted as he did if his loss had been properly taken care of."
The Global Times, a nationalist state-run newspaper, also published an article quoting Chinese legal experts "demanding a halt to the execution." And commenters on Chinese social media called for further review of his case.
The Supreme People's Court, which automatically reviews all death sentences handed down by Chinese courts, did not immediately respond to a request for comment.
China is believed to execute more people than any other country, though the total number and most details about executions are considered a state secret. That system now faces a rare, public test, said Maya Wang, a researcher on China for Human Rights Watch.
"On the one hand, if it doesn't approve the death penalty, it would seem to be soft on a case in which an ordinary citizen has killed an official," Wang said. "On the other hand, if it approves the death penalty, it will heighten the sense of injustice that the public already feels against the criminal justice system."
Disputes over land seizures are one of the greatest sources of unrest in China, where breakneck development and weak legal support has led to officials evicting residents with little or no compensation and suppressing protests, often violently.
Local governments are heavily reliant on land sales for revenue, resulting in the common use of strong-arm tactics in housing demolitions. Officials sometimes collude with real estate developers to pocket generous kickbacks for themselves, giving them more incentive to force out residents from their homes. The central government has made efforts to try to raise the incomes of rural workers and give farmers more compensation for land seized from them, but progress is slow.
According to Jia's lawyers, village officials in northern China's Hebei province decided to seize and demolish his home on May 7, 2013 — 18 days before he was set to be married. The day of the razing, Jia was dragged out of the home and beaten in front of other villagers. Jia refused to accept the apartment that the government allotted them and chose to rent his own place separately.
Without a home, the family of his fiancee called off the wedding — a move that highlights the increasingly common expectation in China that prospective husbands should be homeowners.
"An ordinary farmer suddenly became a person without property and with no hope after the demolition," said one of his lawyers, Zhao Xiaoliang.
Like most villagers in his scenario, Jia had little recourse under the law.
Like scores of other ordinary Chinese people seeking help for their grievances, Jia submitted appeal after appeal to various levels of government offices that receive such petitions, but was unsuccessful. Such appeals often fail even though the practice dates to China's centuries-old ruling dynasties, and some provinces — to avoid any recrimination from the central government — are known to hire agents who find and detain petitioners and send them back home.
Jia's sister and his lawyers don't dispute that he purchased and modified a nail gun that he used to shoot He Jianhua, the party secretary. Jia turned himself in shortly afterward.
Zhao, who represented him at trial, said he tried to show the court a video of the demolition of the home, but was refused.
The case eventually made it to the Supreme People's Court. According to Wei Rujiu, Jia's appellate lawyer, the high court gave him just five days to assemble and present evidence in Jia's defense, and took 14 days total before it affirmed the death sentence last week.
Wei spoke to Jia on Sunday and said he wasn't sure when the execution would be carried out. Jia's sister presented a new request to the court on Monday asking for the sentence to be commuted.
"I believe that it is possible to see a suspension because many warm-hearted people are making efforts toward that end," she told The Associated Press.
..Associated Press researcher Yu Bing in Beijing contributed to this report.
♦♦♦
Virtual book inscription
–Posted 29 May 2016
Jeanette Wong, owner of the wonderful Casa Chilenne B&B in Cortona, Italy, along with Luciano Polezzi and their two fluffy doggies, Carlotta and Daisy, purchased Kindle copies of Ghosts on the Red Line and Portrait of Ignatius Jones. Here follows a virtual author inscription to a great B&B host and new reader of the eBook versions of these novels.
Hi Jeanette, Many thanks for your warm hospitality! The paranormal elements in the two novels may bring to mind your own memorable experiences. In any case, I hope that you enjoy reading these stories. All the best for your continued success as a gracious host in the beautiful Tuscan hill town that you've made your home! 
 — Peter 
♦♦♦
Editing Fourth Novel
— Posted 29 May 2016
On the balcony of a B&B in Rome, editing a draft of novel #4
What's the novel about?
Alain and Suzanne Morais find safety in Canada after escaping the Nazis. Years later, they warn their grandson Josef Morais, the last member of their family, that he must prepare for future perils. He owes it to his family to survive. Josef takes their warning to heart. When he's threatened, he does what he has to do.
Target release date: mid-2017.
♦♦♦
Stuff Keeps Happening in Hong Kong
–Posted 7 January 2016
A sequel to The Trail of Money?
Missing Booksellers Spark Hong Kong Mystery (by Kelvin Chan, Associated Press, 6 January 2016)
HONG KONG — Five men associated with a Hong Kong publisher known for books critical of China's leaders have vanished one by one in the last three months, alarming activists and deepening suspicions that mainland authorities are squeezing free expression in the enclave.
The mystery took another turn Tuesday when the wife of the latest man to disappear said she now believes he went to China voluntarily and has canceled a missing person's report for
him.
Lee Bo, a British citizen who vanished Dec. 30, purportedly wrote to say he went to mainland China to help with an investigation. His case has sparked fears
that he was seized in Hong Kong by security agents from the mainland and taken there in violation of an agreement giving Hong Kong a high degree of control over its own affairs.
Lee's wife said she believed the letter showed he wasn't acting under pressure. "I believe that it was voluntarily written, so that's why I retracted the case," Choi Ka-ping told reporters in brief comments.
Lee and the other four missing men are associated with the publisher Mighty Current, which specializes in gossipy books on political scandals involving China's Communist leaders and other sensitive topics that are banned in the mainland.
The disappearance of the five — all since October — has raised concerns Beijing is eroding the "one
country, two systems" principle that's been in place since Britain ceded control of Hong Kong to China in 1997. The principle maintains civil liberties in Hong Kong that are nonexistent on the mainland, including freedom of the press.
British Foreign Secretary Philip Hammond, on a visit to Beijing, said he pressed officials for information on Lee. 
"We have urgently enquired, both of the Hong Kong authorities and of the mainland Chinese authorities, what — if anything — they know of his whereabouts," Hammond said. He added that if Lee is involved in any investigation, it should be settled by the Hong Kong judicial system.
Chinese Foreign Minister Wang Yi, speaking at the same press briefing,
warned against making "assumptions or meaningless speculations" about Lee, saying that "above all! , he is a Chinese citizen."
An image of Lee's handwritten letter was published by Taiwan's government affiliated Central News Agency late Monday and subsequently by Hong Kong media.
The letter, faxed to an employee at the publishing company's Causeway Bay Bookstore in Hong Kong, said: "Due to some urgent matters that I need to handle and that aren't to be revealed to the public, I have made my own way back to the mainland in order to cooperate with the investigation by relevant parties."
"It might take a bit of time," it said. "My current situation is very well. All is normal."
♦♦♦
"Honest Psychics"
— Posted 13 June 2015
The New York Times reported yesterday on criminal psychics who use hope and fear to separate vulnerable people from their money. But the article points out that not all psychics are criminal fraudsters. Some are "honest psychics."We were introduced to Boston psychic Dr. Frances Gourmelon in Ghosts on the Red Line and got to know her well in Portrait of Ignatius Jones. She believes in what she's doing, even when she totally makes stuff up in her sessions with clients. She believes that there is a paranormal and that she's experienced it, not as often as she'd like, but on a number of memorable occasions.
I like to think that to the extent there are "honest psychics," that Dr. Gourmelon is one of them.
The NYT article follows…
Criminal Psychics See a Clear Path to Profits in the Desperate (The New York Times, 12 June 2015)By Michael Wilson
Objects of Priscilla Kelly Delmaro, a psychic charged with taking over $700,000 from a client; a detective says smaller-scale schemes are not unusual. Credit Dave Sanders for The New York TimesA detective paused between bites of a late lunch on Wednesday in a Midtown diner and said, "It's not very often you see a customer in a psychic shop."His point was that, behind the windows of those storefronts, evenly spread in every neighborhood in Manhattan, is some variation of two chairs, a crystal ball and a menu of services and prices — but rarely any people, psychic or otherwise.The detective, Michael McFadden, asked: "How do they make their money? How do they keep their businesses open?"Evidence of Detective McFadden's observation — and one answer to his question — could be found on West 43rd Street, where a neon sign reading "Psychic" was lit in one storefront this week. The room was empty, the door locked.The woman who worked there, Priscilla Kelly Delmaro, 26, was in jail, charged with grand larceny after the police said she took $713,975 over 20 months from one man. The man paid Ms. Delmaro sums up to $100,000 at a time after she promised to reunite him with a woman he loved. The payments continued, as this column described last week, even after the man discovered that the object of his affection had died.
The storefront of Zena Clairvoyant in 2011. In 2013, a psychic, Sylvia Mitchell, was convicted of stealing $138,000 from patrons of Zena, having promised them repayment as Ms. Delmaro is accused of doing. Credit Richard Perry/The New York TimesThe elaborate deception described by the man, involving payments for a time machine and not one but two gold bridges in another realm, was surprising to many, but not to Detective McFadden. A 25-year veteran officer and member of the Police Department's organized theft squad, he specializes in deception crimes of many varieties, including ones by psychics.
In fairness to honest psychics, he did not suggest that every psychic has criminal intent. But he knows more about the ones who do.He said fraud schemes like the one Ms. Delmaro is accused of running were not uncommon, and probably more widespread than anyone knew — although they typically involved smaller amounts. Victims feel duped and ashamed and don't always come forward.There are three types of people who approach a psychic, Detective McFadden said."You're curious, you've never done it," he said. Or a group of friends go together, for fun. "It's a goof," he said."And then you have people who are in crisis," he said. "They're very vulnerable." A disreputable psychic latches onto this customer, promising aid and urging a follow-up visit."If they get you to come back, the hook is set," Detective McFadden said.The victims are often affluent and elderly, as eager for companionship as they are for spiritual cleansing. "They're frequently educated, more sophisticated people," he said.When do palm readings and tarot cards become a crime?"When they're saying, 'Give me money and I'm going to help you,' " he said. "I need to hear a person be told something that is not true."Routinely, a crooked psychic promises the money will be returned after it is "cleansed." These promises are not met, although some psychics, after they are arrested, pay back money as part of their plea bargains.The psychic community is close knit, often including members of large families that trace their roots to Roma families, also known as Gypsies. They compare notes, the detective said. There are rules. For example, a "three-block rule" establishes turf boundaries, he said. Disputes are taken up by a tribunal known as a kris.Criminal psychics implore their victims not to talk about the "work" they are doing — the crystals, the cleansing of spirits — with anyone, sealing them in a bubble of trust, Detective McFadden said. He recalled a victim he met while she was still working with the psychic in question. The victim refused to believe, at first, that she was being swindled, and told the detective, "I'm not supposed to talk about this."Psychics can keep raising the stakes with new threats from the beyond, suggesting the victim and even the psychic are in danger.Most criminal cases against psychics in New York begin with a victim walking into a precinct station house and making a complaint, but this is hardly a given. "Most people don't think it's a crime," Detective McFadden said. "They think it's a civil matter."The challenge in prosecuting fraud by psychics often begins with the victims, whose judgment and clearheadedness can surely be called into question. Detective McFadden has a ready answer for people who criticize victims of psychics as being so misguided as to have practically asked for it to happen."They say, literally, 'What are they, stupid?' " he said. He does not think so, and uses the words gullible and vulnerable. But for the sake of argument, he likes to reply: "Is it O.K. to rob stupid people?"
 ♦♦♦
Psychic in Key West: Not Dr. Frances Gourmelon!
— Posted 25 April 2015
When I took this picture down in Key West in February during an all-too-brief respite from our New England winter, I was thinking about Dr. Frances Gourmelon who is known to many of you from her appearances in Ghosts on the Red Line and Portrait of Ignatius Jones. The psychic in this picture looks nothing like Dr. Gourmelon and most likely has absolutely nothing in common with her apart from their profession. I didn't get her name. Given her psychic abilities, possibly she'll sense the presence of her photo in this blog. If so, I'd love to hear from her!

♦♦♦
On writing novels…
— Posted 21 April 2015
On 2 April 2015, I visited a small TV studio in Central Massachusetts to tape a segment of "Be My Guest!" with host Jan Lewis. We covered a wide range of topics, including how I write my novels. Each writer has an approach that works for him or her, or maybe doesn't all that well, but it's how we do it anyway. In my case, I start with an idea (people see ghosts on the subway) and then build on it, chapter by chapter, dealing with challenges as they come up while staying true to the characters and refraining from pushing the boundaries of credibility too hard. I push forward until arriving at an ending of the story that makes sense.  And then I revise the draft, over and over, adding & deleting sections and chapters, and refining language, each time amazed at the flaws that escaped my notice on earlier iterations.  When I've done all that I can, I turn the manuscript over to a professional editor.  Inevitably the editor identifies issues that I missed somehow, which sets in motion another series of revisions.  Until, eventually, the story is told.  Then the readers take over.
In the following video clip, I comment on my writing of Ghosts on the Red Line, The Trail of Money, and Portrait of Ignatius Jones, and on my current efforts on a fourth project that is still taking shape.
♦♦♦
Daughters of Edward Darley Boit
— Posted 5 January 2015
Visiting the Boston MFA yesterday, I saw, once again, the great John Singer Sargent portrait of the Daughters of Edward Darley Boit (1882).  Readers of Portrait of Ignatius Jones will recall that Boston psychic Dr. Frances Gourmelon recruited painting copyist Annie Kane while Annie was in the MFA, copying a portion of this huge (more than seven feet on each end) painting.  Annie was focusing her copy on the youngest daughter, Julia, age four, sitting on the floor with her doll.
♦♦♦
Defeated by spam
–Posted 31 October 2014
Within the last two years this blog has attracted over 28,000 spam messages.  Many were sent from watch-list IP addresses and were caught and side-tracked by WordPress into a spam folder.  But those that got through I had to delete one-by-one after recording their IP addresses in order to waylay their deformed cousins.  Does anyone ever take these seriously? Why do they bother?  But, I give up.  I'm deleting the Comment function on these blog posts. However, as always I will welcome inputs from real, live, highly-valued visitors via the website Contact page.
♦♦♦
Great Way to Create Audiobooks
— Posted 12 January 2014
Audible.com will soon release the audiobook version of Ghosts on the Red Line, narrated by actor-producer Paul Fleschner.  The novel is ~77,000 words in length which means the audiobook version will provide slightly over eight hours of fascinating listening.
Recording Ghosts on the Red Line required a significant commitment by Paul and his sound engineer. He is located in Chicago while I'm in the Boston area, and we didn't know each other, so how did we get together? The matchmaker: An Audible.com platform called ACX.
How it worked:  I posted information on ACX about the book.  Prospective narrators responded by submitting auditions in which they read selected portions of the book. I decided that Paul's approach and his skills as a professional actor would provide the best result, and I "accepted" his offer. Our deal, one of several options provided by ACX, was that we would split royalties from the sales of the audiobooks, so I didn't have to incur any upfront cost.
In addition, ACX offered to pay a "stipend" to the narrator. This is only offered for certain books that ACX selects based, I assume, on its judgment about how many audiobook copies it will sell. The amount of the stipend depends on the length of the book and it is paid subject to a proviso that the project has to be completed within 60 days. In the case of Ghosts on the Red Line, the stipend was $800. This is a win for Paul since it covers some of his expenses, and it's also a win for me, because it signifies that Audible.com believes in the book sufficiently to invest in it and it has a stake in marketing it to recoup its investment.
So… fellow authors, if you'd like your public to be able to hear as well as read your amazing words, Audible.com and ACX provide a way to make that happen!
♦♦♦
Data from Pew Research Center: People See Ghosts
 — Posted 31 October 2013
Reprinted from a report by the PEW RESEARCH CENTER (30 October 2013)
BY Michael Lipka
On Thursday evening, many American children will encounter costumed ghosts as they roam the streets in search of candy and other treats on Halloween. Before bedtime, to avoid nightmares, some parents may try to reassure their kids that ghosts are not real.
But not all of those parents may buy their own reassurances:  Nearly one-in-five U.S. adults (18%) say they've seen or been in the presence of a ghost, according to a 2009 Pew Research Center survey. An even greater share – 29% – say they have felt in touch with someone who has already died.
Claude Fischer, a professor of sociology at the University of California, Berkeley, explored Americans' persisting beliefs in some supernatural phenomena in a recent blog post.
"As we approach Halloween, note that mostAmerican adults in the 21st Century say that they believe in life after death and in the devil," Fischer wrote, citing data from Gallup and other sources. "Over one-third say that they believe in the spirits of the dead coming back; about that many also say they believe in haunted houses."
Despite the influence of modern secularism and science, he observed, "the magic has not totally gone."
Does going to church help keep ghosts away? It's impossible to say, but people who often go to worship services appear to be less likely to say they see ghosts. Just 11% of those who attend religious services at least weekly say they've been in the presence of a ghost, while 23% of those who attend services less frequently say they have seen a ghost, the Pew Research survey found.
Michael Lipka is Assistant Editor at the Pew Research Center's Religion & Public Life Project.
♦♦♦
"Lehane, You're a Treasah!"
— Posted 16 May 2013
Dennis Lehane on why he became a writer, and on how he writes, as recounted last night at The Book Shop in Somerville, MA:
Why
–    Grew up in large Irish family of great story tellers (PDS note: Unfair!)
–    Realized early on that he also could tell stories.
–    Discovered books in local libraries.
–    Realized that chicks are attracted to writers.
How
–    Puts his butt in the chair to write every day. Sets aside time, regardless, even if no words are produced.
–    Starts at the beginning, not five minutes before the beginning.
–    Strives for authenticity in his voice and characters.
–    Characters are defined by what they want. All else follows.
–    Researches facts, issues, and questions as needed, as the story progresses, not in advance of writing.
–    Plans the beginning, middle, and end of the story, and then lets his characters and narrative dictate where things go.
–    If he's blocked, lets his subconscious figure out where the problem is while he takes up other projects. Interprets being blocked as indicating he made a mistake earlier in the story that needs to be fixed.
–    Changes his voice for each story… first person for Patrick Kenzie stories, story teller in a bar for Mystic River, gothic voice for Shutter Island.
–    Writes both in long hand (for speed, to be revised later) and typing.
–    Works in a dark, quiet office. Not a Starbucks author (nor a customer, he prefers Dunkin Donuts).
My Advice to Fellow Writers
–    If Dennis Lehane is scheduled for a talk, Q&A, and book signing near you, Go. He's great! You won't regret it.
* Shouted to DL by a fellow Bostonian near the intersection of Newbury and Exeter Streets.
♦♦♦
ABNA and Ripped from the Headlines
— Posted 14 February 2013
News flash from the 2013 Amazon Breakthrough Novel Award (ABNA) contest: The Trail of Money has qualified for Second Round selections in the Mystery/Thriller genre. There are several more stages to go before we celebrate, but for now, I'm feeling good about the recognition.
That the The Trail of Money tells a timely story was underscored in an article in today's Wall Street Journal about land grabs in China (http://bit.ly/ChinaLandGrab). In an example reported in the article, a farmer who was forced off his land was paid nine yuan ($1.45) per square meter. The officials then sold his land to a developer for 640 yuan per square meter. In turn the developer built villas that sell for 6,900 yuan per square meter.
Readers of The Trail of Money will recall that the novel begins with the demolition of a rural village to make room for expansion of nearby Shanghai. The villagers are cheated out of fair compensation, and a young man in the village vows to get revenge on the corrupt officials who benefited…
♦♦♦
— Posted 4 February 2013
When do such thoughts intrude? You visit a graveyard and see carved on a gravestone,As you are now, I once was. As I am now, you soon shall be.
Or you study portraits in paintings or photographs of real people who once lived and who are now dead.
Although they're clothed differently than us, the men and women in the portraits are recognizable as living personalities with real attitudes and concerns, revealed variously by their portraitists as proud, clever, imperious, solemn, forceful, confident, dyspeptic, scholarly, weary. Some stare directly at us, eye-to-eye, as if to declare, "this is who I am," while others turn their gaze towards an object that is out of our view. Some pose grimly while others' faces are lit with smiles, tight smiles, secret smiles, even happy smiles, looking much like people whom we know now.
Although they understood that they would surely die, none of the people in the portraits knew exactly when or how, just that it would happen sometime in their indefinite futures. Their inevitable deaths were probably no easier for them to grasp than ours are for us.
Their indefinite futures came, and went, and became our distant past. We have an ironic connection with the men, women, and children who were so alive in their portraits in that we know with absolute certainty that they did eventually die, at times and in circumstances that we could probably discover, for some of them, if we chose to do the research.
These portraits hold another kind of irony for believers in an afterlife. For such believers, the people in the portraits have now discovered what awaits on the Other Side, knowledge not yet available to mortals who are still breathing. So, to paraphrase the saying on the gravestone: We know now what they didn't. They know now what we have yet to find out.
Could a psychic "communicate" with a person depicted in a portrait? No doubt he or she would be game to try and would have findings to report. But it's not so easy for those of us who are less sensitive. Consider, for example, one of your own portraits that may have been painted (or taken as a photograph) when you were a lot younger. Stare at it as hard as you can. Take as long as you want. Can you connect with the person, your younger self, who is shown there?
What might it be like to be a ghost, assuming that ghosts exist? The good news is, you don't need to die to find out. Just return to the university where you spent time as a student. Look around you. I'd bet that none of your cohort is anywhere to be found. All of your fellow students have vanished from the hallways, and classrooms, and student center, and plazas, and other spaces which otherwise remain so familiar. They're gone. But the campus is far from empty. It's buzzing and busy, amply populated by a new cadre of students who resemble the younger you and everyone you once knew, who are doing the things you recall doing, but you are not one of them, and you are invisible to them.
♦♦♦
A Brief Journey into the Land of Real Life
–Posted 6 December 2012
A journalist in Hong Kong contacted me last week. He asked whether I had found information about corrupt business practices in Hong Kong while I was writing The Trail of Money. He said that he's working on a story.
Not so amazing, except that The Trail of Money is a product of my imagination, a suspense novel, and it features a journalist who is working on a story about money laundering in Hong Kong.
First, the facts: There is corruption in China, illicit money must go somewhere, and Hong Kong is a popular destination for it.  Just yesterday the South China Morning Post reported that HSBC, a large HK bank, might pay a US$1.8B fine for money laundering.
But otherwise The Trail of Money is fiction.
I imagined that corrupt officials in Shanghai might create a private equity fund to invest their ill-gotten gains.
I imagined that such a fund would partner with a HK business titan to buy a large HK company.
I imagined that a journalist in HK named Erin Haig is investigating that deal when she meets consultant Harry Forrest West, the main protagonist in The Trail of Money, who has been hired to determine whether that same deal is a front for money laundering.
I imagined that they agree to collaborate, that stuff happens, and the rest, as they say, is history. Except that it isn't. Or is it?
I sent the journalist a couple of articles that I found while doing research for the book. I doubt that they'll add much to what he already knows. But in sending them, I was able briefly to journey across the border from my land of fiction into the real world, and it was an interesting trip.